RURAL MUNICIPALITY
OF ST. LAURENT
​
REMINDER:
RV Conditional Use Permit Fees DUE JUNE 1, 2022
NOTICE OF REGISTRATION OF PROSPECTIVE CANDIDATE FOR GENERAL MUNICIPAL ELECTION
2022 WIWD WATER TESTING PROGRAM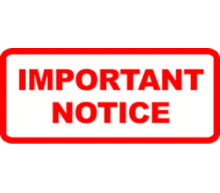 These custom made bombardier signs are available in three sizes to suit your budget. 30CM X 45CM for $60.00, 45CM X 60CM for $100.00 and 60CM X 75CM for $150.00. They can be ordered in most colors. Expect a 4 week lead time.