RURAL MUNICIPALITY
OF ST. LAURENT
​
REMINDER:
RV Conditional Use Permit Fees DUE JUNE 1, 2022
NOTICE OF REGISTRATION OF PROSPECTIVE CANDIDATE FOR GENERAL MUNICIPAL ELECTION
2022 WIWD WATER TESTING PROGRAM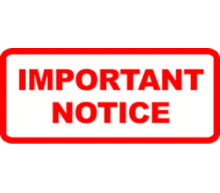 Up-coming amendment to the Parks and Beaches By-Law​​

Using the feedback from the 2021 surveys to better serve the community

Up-coming amendment to the Fees, Fines and Charges By-Law

Creating Schedules for the various sections- to expedite and make the amendment process more efficient​

Include a fine schedule for the Derelict Building By-law
​​
​
​
Copies of these by-laws are available at the RM office.
The RM passes by-laws to promote a safe, pleasant and caring community




- If you are concerned for the immediate well-being of yourself or another person, please call the RCMP at 9-1-1



-If you are concerned for the well-being of a domestic animal or livestock, please call the Animal Care line at 1-888-945-8001.



-If you are concerned about wildlife, please call Manitoba Wildlife Conservation at (204) 762-5229.

-If you are concerned about a fire, please call the Fire Department at 9-1-1.

-If you believe you are witnessing a by-law infraction, please complete the By-Law Complaint Form, using the link below.
The complaint form should be submitted at your earliest convenience.



The By-law enforcement officer works odd hours and will review the complaint at her earliest convenience.
You may call the RM office at (204) 646-2259 Monday through Friday from 8:30 AM to 4:30 PM, if you have any questions.